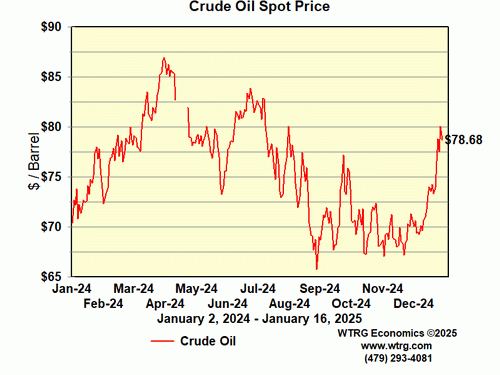 We have is a confluence of two potentially synergistic and mutually disastrous events.
Here's one:
Energy Bulletin, October 30, 2004
:
Demographic Trends





It's a purely connect-the-dots exercise, though demographic trends here in Asia could have a bigger influence on oil than investors may appreciate. With the exception of Brunei, Indonesia and Malaysia, Asians import just about all of their oil. Populations here are surging, incomes are rising and oil consumption has nowhere to go but up.





In China, Faber thinks, ``we have a per capita consumption of oil of 1.7 barrels. In America it's 28 barrels, in South Korea 17 barrels, Japan 17 barrels, in India 0.7 barrels. In Vietnam it's probably also less than one barrel. So in Asia on the population of 3.6 billion people we consume less oil than the U.S. on a population of 295 million.''





Looking ahead, Faber adds, ``I would imagine that in Asia the demand will certainly double by comparison. Say Mexico has a per capita consumption of 7 barrels, Latin America 4.4 barrels. Asia, as I said, it's anywhere around 1.5 barrels.''





Consumption of oil in Asia may double to 40 million barrels a day from 20 million barrels, Faber says. ``The question is, is it six years or 12 years, but the doubling is easy to project,'' he says.





Monetary Stimulus





Add to that equation the amount of monetary stimulus currently making its way around the global economy. As Ray Dalio, who manages $38 billion as chief investment officer at Bridgewater Associates Inc. in Westport, Connecticut, puts it: ``An abundance of dollars and a shortage of oil is a dangerous combination.''



It's not just the U.S. Federal Reserve holding short-term interest rates near record lows. There's no end in sight to the Bank of Japan's zero-interest-rate policy amid few signs its seven- year bout with deflation is over. It means the central banks of the world's two biggest economies continue to print lots of money.

Didn't the US Fed lower interest rates last week? This was written
three years ago. That's three years of even more piles of dollars and even lower interest rates.



That monetary stimulus, along with rising demand, concerns about supply and geopolitical uncertainties, helped fuel a 76 percent surge in oil prices over the last 12 months. Now, those who worried about the economic effects of crude oil at $40 a barrel are wondering about what $60 or $70 a barrel will do to global interest rates and markets.
And as you can see from the chart above, those $60 and $70 a barrel levels may now be only a memory. Maybe.
Here's the other item of interest:
Huffington Post, August 3, 2006:
Global oil prices could hit $200 per barrel if the United States pursues sanctions against




Iran for its nuclear development program, an Iranian official told Venezuelan state TV on Thursday.





Iran's Foreign Relations Vice Minister Manuchehr Mohammadi said, "The first consequence of these sanctions would be an increase in the price of oil to around $200 per barrel."
Didn't the Kyle-Lieberman amendment authorize sanctions against Iran?
Now reread that
article
about the possibility of an attack on Iran causing the Straits of Hormuz to be closed and the effect that would have on the price of oil.
Labels: Asia, Iran, Kyle-Lieberman amendment, oil, sanctions